Meet the Atlantic Canadians Representing the Women's National Hockey Team at the Beijing Winter Olympics
1 February, 2022
It takes a dedicated group of people working hard in their roles to make it to the Olympic Games. We spoke to six members of the Women's National Hockey team—support staff, coaches, and athletes—with ties to Atlantic Canada, who are representing their small communities at the same time as their country.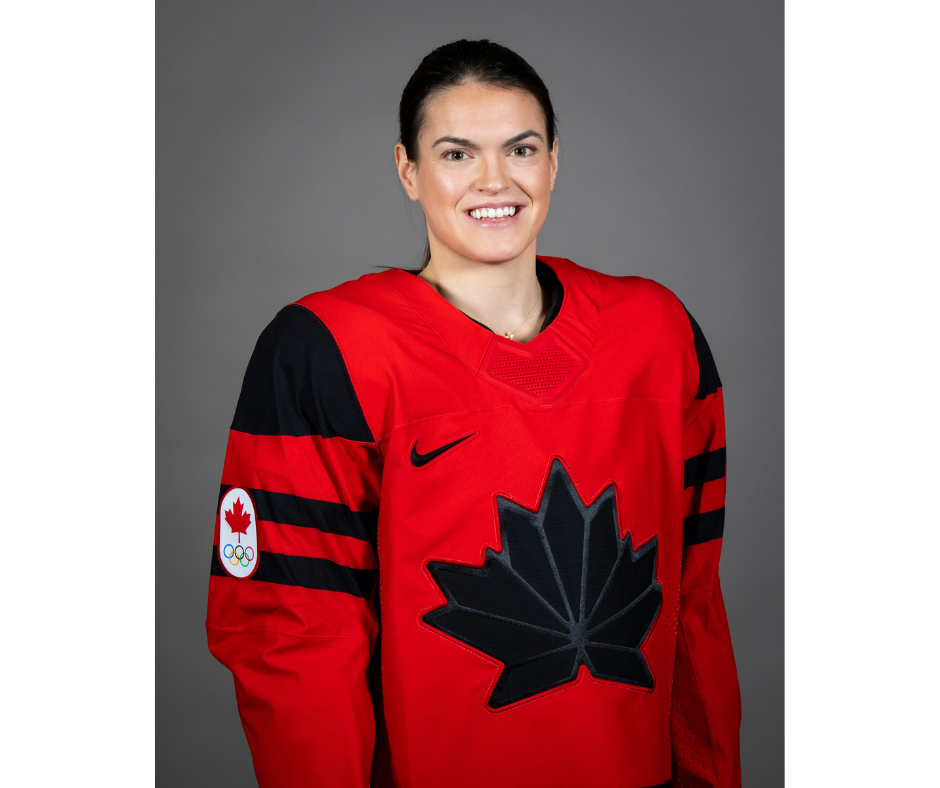 Blayre Turnbull, Athlete and Assistant Captain
It doesn't get much more Canadian than a Tim Hortons hockey card. Now there's a new crew proudly featured in the Upper Deck's collection — the women's national hockey team. "Growing up, if I opened a pack of cards and saw a female player, it would have been the coolest thing ever," says assistant captain Blayre Turnbull of Stellarton, N.S. 
Aspiring young hockey players can now do just that, and see players from Nova Scotia to boot. "It solidifies the fact that you can dream to be a female hockey player. You can chase your goals," says Turnbull.
In 2018, Turnbull and teammate Jill Saulnier made history as the only women from Nova Scotia to ever play for Team Canada at the Olympics. "It's a huge honor and something that I take a lot of pride in," she says. "We're really hoping that we might be the first but definitely not the only women from Nova Scotia to play on this team."
At the Pyeongchang Games Turnbull says she was in disbelief that she'd actually accomplished her goal of making the Olympic team. Now she gets to do it again, returning to the Olympic stage for a second time with more experience, more wisdom, and a better idea of what to expect on the ice. 
Jill Saulnier, Athlete 
For two-time Olympian Jill Saulnier, it's all about one percent improvements. Over the last four years, Saulnier has focused on how to get better on and off the ice. Those little improvements have added up, and she's heading to her second Winter Games ready to take home gold. 
"There's so many ups and downs in sport and trying to accomplish a dream," Saulnier says. "I found that the weight of holding one big dream every single day is really heavy." So she keeps her head down and stays laser focused on tackling each day as they come.
Her passion for hockey started at age five, as she watched her brother glide on their backyard skating rink. She wanted to be out there, too. Her parents gave her a $99 Wayne Gretzky kids hockey set and she fell in love with the game. "I went on the ice, and honestly, I never came off," she says. "I was so addicted to skating and trying to get that little puck in the net."
Five years later, she remembers watching the women's team win gold at Salt Lake 2002, standing on the blue line with their medals and signing the national anthem. That was a turning point for Saulnier; her eyes opened a little wider, and her passion to go to the Olympics came alive. "Ever since then, it's continued to grow every single day, and here I am trying to live out that dream." 
Troy Ryan, Head Coach
A lot can change from August to February, but head coach Troy Ryan is taking Team Canada's gold medal win at the 2021 World Women's Hockey Championship as a good sign. In fact, it was Canada's first women's world hockey championship in almost a decade. "We started off on a good note winning that," he says. In yet another pandemic year, it was a bright spot. Next up? Facing off against Switzerland in the prelims at Beijing 2022.
Hailing from Spryfield, Nova Scotia, Ryan owes his coaching success to his home province. "I probably wouldn't have gotten these opportunities if it weren't for all the programming that's available in Nova Scotia to support coaches." He previously served as the Atlantic Canada female coach mentor with CSI Atlantic, and he says organizations like CSI Atlantic, Hockey Canada and Hockey Nova Scotia have helped high performing female athletes reach that Olympic caliber level. He points to Jill and Blayre as prime examples, who were the first ever Nova Scotians named to the national women's Olympic hockey team in 2018. "The main foundation of their hockey careers was established in Nova Scotia," he says.
Though it's Ryan's first Games as head coach, he has been working with the women's national program for five years. At the 2018 Pyeongchang Winter Games, Ryan was associate coach with Canada's silver medal-winning team. There, he walked in the Opening Ceremony and remembers entering the stadium and taking in the sights. "You automatically reflect back on the players you've coached, your school teachers, or coaches you had when you were playing hockey."
Kori Cheverie, Assistant Coach
Hockey has taken Kori Cheverie to some faraway countries, including China, Japan, New Zealand, and Switzerland. Growing up, Cheverie didn't get to see as many people from her small province of Nova Scotia on those international stages, but that's changing. "We keep seeing more and more every year and it's just amazing," she says. 
Cheverie's playing career was spent with the Saint Mary's Huskies and the Toronto Furies, and she later coached with X University's men's team in Toronto, making her the first woman to be hired to a full-time coaching role in U Sports men's history. 
Her latest role is assistant coach with the women's national team. Though the team will be competing on the Olympic stage, Cheverie is trying to approach it like any other day. "You can probably get a little overwhelmed mentally if you let it creep in that you're going to the Olympics," she says. "I just try to keep it very even keel and stick to my routine." 
That routine includes strategies and techniques on how to calm the mind in moments of chaos, like daily exercise, journaling, and meditation. The high performance environment can be extremely stressful, Cheverie explains. "If you're not well equipped with some coping strategies, sometimes it can get overwhelming." 
And with this mindset, Cheverie is set for her Olympic debut in Beijing.
Dr. Christina Atkinson, Team Physician 
Dr. Christina Atkinson has dreamed of going to the Olympics since she was 16 years old. "I thought I was going to go to med school, be a sports doctor, and go to the Olympics," she says. "It's a long time getting here, but we're almost there." She was accepted as volunteer physician for the Vancouver Games in 2010, but she wasn't able to attend. But this time around, she's ready to go. 
For team physicians during COVID, their responsibilities expanded beyond typical injury and athlete monitoring. Pandemic protocols means heaps of paperwork and administrative duties to ensure that the team is travel-ready. Atkinson oversaw extra health monitoring, including temperature taking every morning, and daily antigen testing that was required to travel to Beijing. 
So with all these added external stressors, how does the team keep their eye on the prize? "We just focus on what we're working towards, like we did at Worlds." A common team goal has bound the athletes, staff, and coaches together with a singular aim — competing at the Olympics. Atkinson says they're all grateful that they get to go to the rink and train together, rather than focusing on what they don't get to do. 
Jeremy Steinbach, Strength and Conditioning Coach 
Jeremy Steinbach is the guy in charge of implementing warmups and cooldowns, workouts and speed sessions for the team. After graduating from Glasgow University, the strength and conditioning coach from Binbrook, Ont., accepted a position at Canadian Sport Institute Atlantic, where he's been working with high performance athletes since 2012. He now lives in Beaverbank, Nova Scotia. 
As strength and conditioning coach with the women's national team, Steinbach uses data management software Catapult to track on-ice workloads and intensity. A typical work day for Steinbach: athletes warm up and go on the ice, where he tracks drills with Catapult throughout the practice. A cooldown after practice is followed by a team session workout a couple of hours later, to ensure that athletes are in top condition for competition. 
This is Steinbach's second time at the Olympics. "I've learned more, and I feel like I've grown since then," he says of his stint with the women's team last quarter. After the 2018 Pyeongchang Games, he pursued a master's in strength and conditioning at St Mary's University in Twickenham, London. With experience comes more confidence. Steinbach says his approach has been applying the knowledge he's gained, evaluating what's worked and what hasn't through trial and error, and just keeping it simple. "It's just reiterated that sometimes less is more," he says.